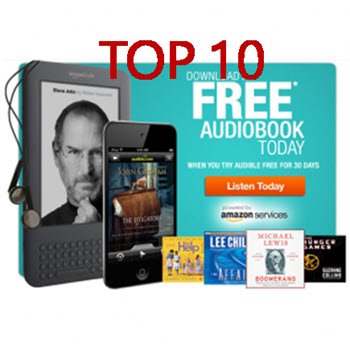 When it comes to downloading audiobooks, many of you may think of Audible.com, the world's largest producer of downloadable audiobooks. However, you might be disappointed to find out it's hard to download free Audible books if you just run out of its 30-day free trial. Despite of that, the good news is that it allows you to stream free audiobooks without being an Audible subscriber. You can access a large amount of free Audible books as long as you have Amazon Prime membership.
If you have no idea where to start the free listens on Audible, the following top list might give you some hints. Go ahead and check out the 10 best free Audible books you should stream and listen.
10 Best Free Audible Books to Stream in 2019
#1 Pride and Prejudice by Jane Austen
Narrated by Erica Collins
Most of you might have already read this book as it's one of the most popular novels in English literature. It charts the emotional development of protagonist Elizabeth Bennet, who learns the error of making hasty judgments and comes to appreciate the difference between the superficial and the essential. Although it was written over two centuries ago, Jane Austen's classic and romantic story of love and family keeps delighting more generations. It would be a different experience to go over the whole book again with this audio version. You would get into the characters more deeply due to the wonderful voice of the narrator.
#2 The Pursuit of God by A. W. Tozer
Narrated by Alastair Cameron
As a classic Christian work, A. W. Tozer's The Pursuit of God is a deeply spiritual book that focuses on forming a relationship with God through Christianity. It has encouraged generations and generations to live more simply and deepen their relationships with God. If you want to experience the joys of Christian living, you should not miss this book.
#3 Anne of Green Gables by Lucy Maud Montgomery
Narrated by Sinead Dixon
In this beloved coming-of-age story, Lucy Maud Montgomery drew from her own experiences growing up in Canada during the nineteenth century. She created a main character Anne Shirley, an 11-year-old orphan girl full of ideas and imagination. The book recounts how Anne makes her way through life with the Cuthberts (who originally intending to adopt a boy to help them on their farm in the fictional town of Avonlea), in school, and within the town.
#4 Jane Eyre by Charlotte Brontë
Narrated by Claire Walsh
You must be familiar with this book too. As one of the most beloved novels all around the world, Jane Eyre contains elements of social criticism, with a strong sense of Christian morality at its core and is impressed by many because of Jane's individualistic character. Even if you've already read the book before, you should give a try with the audiobook version and you may love it again.
#5 The Secret Garden by Frances Hodgson Burnett
Narrated by Victoria McGee
You may have already read this book when you were a child. But you are encouraged to listen to it again with your kids if you have any, since it is considered a timeless classic of English children's literature. In this novel, the author Frances Hodgson Burnett shares some amazing insights into human nature with the readers. Mary Lennox, a sickly little girl, is orphaned to dim prospects in a gloomy English manor - her only friend is a bed-ridden boy named Colin, whose prospects may be dimmer than hers. But when Mary finds the key to a Secret Garden, the magical powers of transformation fall within her reach.
#6 Alice's Adventures in Wonderland by Lewis Carroll
Narrated by Brian Kelly
Alice's Adventures in Wonderland, or simply Alice in Wonderland, tells of a girl named Alice falling through a rabbit hole into a fantasy world populated by peculiar and anthropomorphic creatures. The audio version of this book on Audible is Alice's Adventures Underground, which is the original manuscript version of Alice's Adventures in Wonderland.
#7 Kidnapped by Robert Louis Stevenson
Narrated by John L. Chatty
Although it was originally published for children, Kidnapped has won the hearts of all ages due to its multiple viewpoints to the political situation of the time. The story of the book is set around real 18th-century Scottish events, notably the "Appin murder". And many of the characters in the novel are real people.
#8 The Adventures of Tom Sawyer by Mark Twain
Narrated by Nick Offerman
Being narrated by Offerman, a celebrated actor, with joyful voice and actual comedic chops, the audio version of Twain's classic tale The Adventures of Tom Sawyer would bring you more humors that you probably missed from the book. If you're searching for a fresh take on a timeless classic, you won't go wrong with this audiobook.
#9 Persuasion by Jane Austen
Narrated by Sinead Dixon
If you want to preserve classics and like to spend a lazy time on a cozy chair, this book is a great choice for you. As the last novel fully completed by Jane Austen, Persuasion concerns Anne Elliot, Jane Austen's only aging heroine, who has devoted her life to caring for her financially irresponsible family. Combined with part of fairy tale and part of social commentary, this book remains true to Austen's form, arguing that where there is love, there is happiness.
#10 Heart of Darkness by Joseph Conrad
Narrated by Michael Scott
Heart of Darkness is one of the most influential works ever written, as it reflects corruptive European colonialism and presents a journey into the nightmare psyche of one of the corrupted. It's about a narrated voyage up the Congo River in the so-called heart of Africa.
Extra Tips: Download Free Audible Books on Any MP3 Player
Although Audible doesn't offer free audiobooks for Amazon Prime members to download, it provides free books from its audiobook store so that people can buy and download onto selected devices. If you've saved some free Audible books on your library and would like to download them onto any popular MP3 player like iPod, Sony Walkman, you can use some dedicated Audible to MP3 converters to convert those Audible books from protected AAX to MP3.
In this case, TunesKit Audible AAX Converter is a great tool to go for. It will help you remove DRM from Audible audiobooks and convert the AA/AAX files to common MP3, AAC, WAV, M4B, etc. Best of all, it will keep the original ID3 tags and chapter info of the audiobooks without damaging the source quality.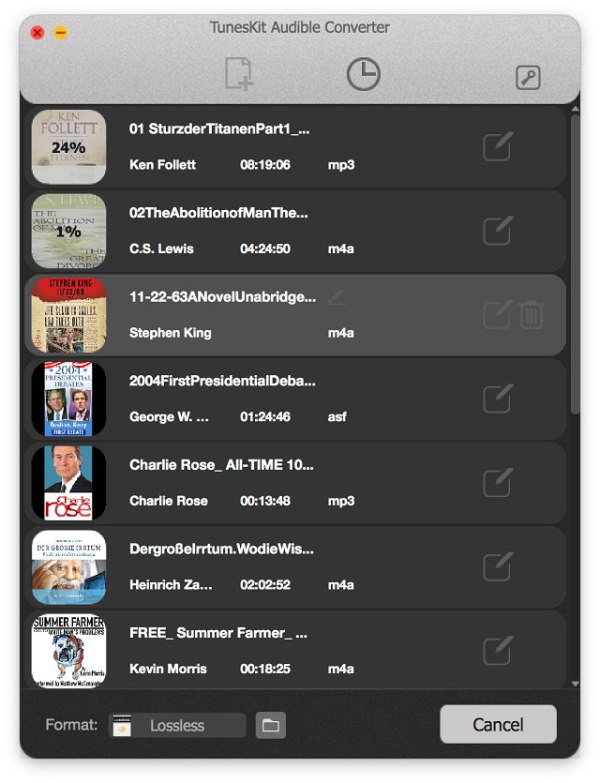 And unlike the traditional Audible audiobook converter, TunesKit Audible Converter doesn't need to work together with iTunes. In other words, you don't need to authorize the book with Audible account on iTunes so that you can convert any Audible book even if you have forgotten the account info.