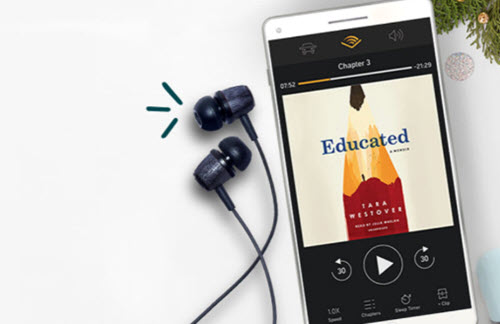 Audible audiobooks continue to be loved by many. They are a good form of entertainment especially when we are out on a busy schedule. MP3 players have for a long time been known to be suitable for music listening. With the emerging trend of advanced featured MP3 players, many people have come to know that they are the perfect choice for Audible audiobooks too. In fact, it is not difficult to find a perfect Audible MP3 player. Simply take note of the distinct features such as storage capacity, audio quality and much more.
Useful Tips of Choosing Audible Audiobook MP3 Player
Battery Life
Audible audiobooks usually last for many hours with some going up to about 40 hours. It is therefore ideal to settle for an MP3 player that will let you listen to your audiobooks without power interruption.
File Format Compatibility
It is the norm for users to own several devices ranging from iPod Touch, iPhones, Tablets and other Android devices. An MP3 player that has wide compatibility of several file formats and versions would be ideal. Get an MP3 player that will work in whatever format including MP4, M4A, AAC, FLAC, and so forth.
Note: Currently, most of the Audible audiobook files are protected by DRM technology. With which, only selected devices that support Audible app are able to play the books as expected. In order to play the DRM-ed Audible audiobooks on any MP3 player, you should firstly convert the Audible books from AAX/AA to MP3 with a dedicated Audible converter such as TunesKit Audible AAX Converter.
Audio Quality
A great MP3 player for Audible should also be in a position to automatically get rid of noise or harsh sound effects.
Storage Capacity
Settle for an Audible MP3 player that has adequate storage capacity. By this, you are able to put in several audiobooks together with several cool music songs.
Bookmarking Ability
An MP3 player for Audible audiobooks that has this feature will make it easy for you. This is because most audiobooks on Audible go for as long as 60 hours. Given that this is quite a long duration, bookmarking will enable you to resume your story by navigating to the last session that you left your story at.
6 Best Audible Compatible MP3 Players
1. ScanDisk Sansa Clip Jam
With average internal storage of 8GB, this Audiobook MP3 player got you covered. You can save multiple Audible Audiobooks and still get enough space for some of your favorite music. Furthermore, it comes with SD card extension that has a capacity of over 20GGB. Besides being easy to use, this audible compatible mp3 player will work on most formats including MP4, WAV, APE and M4A.
Pros:
• It is highly compatible with multiple audio formats
• It is very easy to use
• It comes with good sound quality
Cons:
• It lacks Bluetooth feature making it difficult to transfer files sometimes
2. Zune HD
You can use this mp3 player for Audible Audiobooks to store numerous audiobooks because of its huge storage capacity of up to 32GB. Besides, it produces very crystal-clear quality audio to keep you locked up for the longest time possible. Availability of its in-built Bluetooth and WiFi makes the playing of songs online possible.
Pros:
• It has an in-built Bluetooth and WiFi
• You can easily play your movies and songs online
• It has a huge storage capacity
Cons:
• It is incompatible with many formats
3. Sony Walkman NW-E394
This portable MP3 tool lets you store any kind of Audible Audiobook that you need to listen to. Even though you might not get enough space for additional songs, its capacity of 8GB is enough for lots of Audible Audiobooks. What puts it at the forefront is its battery life, which is pretty long. With its strength, you can complete up to 50 hours of non-stop audio tunes.
Pros:
• It has extremely long battery life
• Its interface is easy to use
• The sound quality is crystal clear
Cons:
• The outer-covering is not so strong as it is made of plastic material
4. iPod Nano 7
There are so many Nano generations but this mp3 player for audible beats them all. You can use this tool to video playback all your audio. It is also compatible with most formats like M4P, M4A, WAV, and M4P among others. Furthermore, it is easy to use, with a home button that is more like that of an iPhone.
Pros:
• It has a huge storage capacity of 16GB
• It is compatible with many formats
• This MP3 player is easy to operate
Cons:
• It does not run iPhone operating systems
• The price is a bit high
5. AGPTEK MP3 Player
It is hardy, comes with Bluetooth and has a built-in 16GB memory. These qualities put this mp3 player for audible Audiobooks at among the top in the list. You won't need any cable, at least with this tool that has built-in speakers. Furthermore, its sound quality is worth noting of with a powerful battery life that can take you up to 48 hours.
Pros:
• It is highly compatible with many formats including being able to support VOR voice
• You don't have to use cables as it has a strong Wi-Fi connection
• The battery life is pretty long, supporting up to 45 hours music playback time
• It also supports FM Radio and voice recordings
Cons:
• It at times mixes up your Audiobooks especially the book chapters
6. Portable ScanDisk Clip Jam
It is not only portable but compatible with numerous formats like AAC, WMA, MP4, and DRM. This tool has a longer battery life that is able to support up to 20 hours of continuous audio play. Its price is fairly affordable given its' capability which includes the connection to WiFi and a storage capacity of 8GB.
Pros:
• It has strong battery life
• It is light-weight and easily portable
• It is fair in price
• It is fully compatible with various media formats
Cons:
• It lacks the bookmarking feature, making it difficult to know your last session
Conclusion
It is evident that you will not always come across Audible compatible MP3 player that can play across various formats. Some of these tools will not work as expected in all formats. Even if this is the case, there are other features that you can bank on. Each of the above-mentioned tools is distinct from each other. It is therefore important to consider the tips in regard to the kind of player that will fulfill your needs when listening to Audible audiobooks.