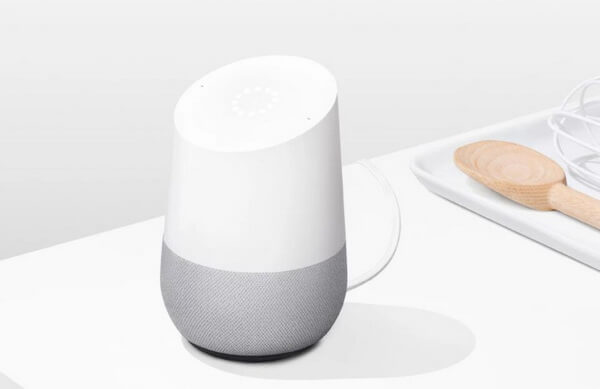 "What is the best way to listen to Audible audiobooks on Google Home? I currently don't have Chromecast Audio or and other dongles. It will be awesome if someone can show me how to do that." - Asked by Luke Allen from an audio forum.
Google Home is a brand of smart speakers developed by Google. It was first released in May, 2016. With the smart voice assistant, users can easily interact with it to play musics from a large number of built-in service such as YouTube Music, Spotify, Pandora, TuneIn, iHeartRadio etc. However, since Google and Amazon are two long-time competitors, Audible audiobook is not added to Google Home. Hence, it is not possible to natively listen to Audible audiobooks. If you also want to play audiobook on Google Home speaker play Audible audiobooks for you, just follow the top 3 methods below.
1. Cast Audible Books with the Google Home app
Google Home comes with the app for both Android and iOS. This is the most convenient way to stream Audible audiobooks as well as other audios on your phone to Google Home.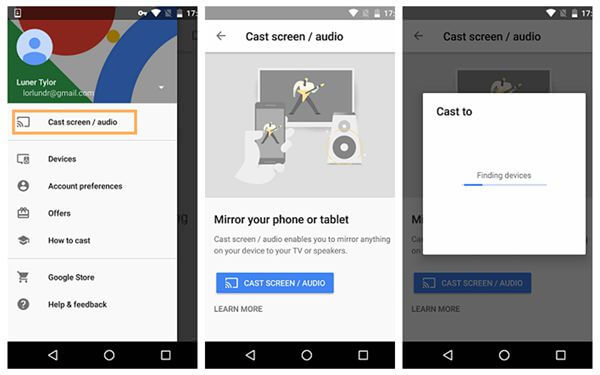 1) Make sure both of your phone and Google Home speaker are connected to the same Wi-Fi network.
2) Install and launnch Google Home app on your phone.
3) Click the Menu button on the top left corner and then hit on "Cast screen/audio".
4) Next, select the name of your mobile phone and click 'OK' to confirm.
5) Finally the audio playing from your mobile will be cast to the Google Home speaker without lag and you can launch the Audible app to start to stream your audiobooks.
2. Stream Audiobooks to Google Home via Bluetooth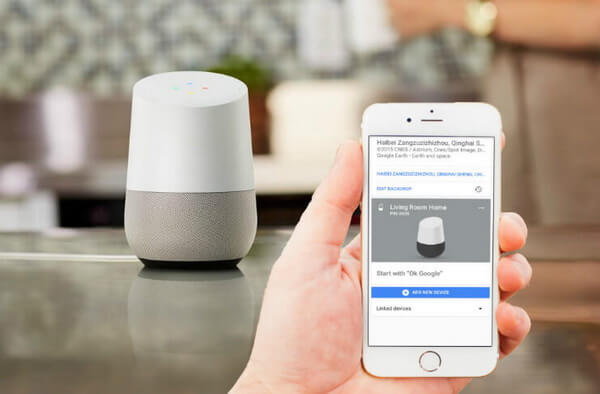 To connect Google Home via Bluetooth, you can either use the voice assistant or Google Home app.
1. Pair Bluetooth with Voice Assistant
The easiest and fastest way is by voice. Just say "OK, Google, Bluetooth pairing", then the smart speaker will automatically search the nearby Bluetooth devices and you can choose the right Bluetooth device you want to connect. Please make sure the Bluetooth is turned on from your phone first.
2. Pair Bluetooth with Google Home app
The other way is by using the Google Home app. You can go to the 'Settings' menu and then scroll to the bottom to find and tap the menu 'Paired Bluetooth Devices' and tap 'Enable Pairing Mode'. After that, you can go to your phone to enable the Bluetooth to connect to Google Home speaker.
When the Bluetooth connection is set up, you can play Audible audiobooks on the phone and mirror the audio to the speaker.
3. Upload Audible Audiobooks to Google Play Music
The third method we are going to show you has some strengths that the above two methods don't have. For example, this method doesn't require you have Audible app on your phone. This is great for those who don't have extra storage for an app you don't use a lot. Second, it's a good idea for you to collect and keep all your precious content at the same place. Next time, whether you want to listen to music or audiobooks, you can easily switch between them if you upload the Audible audiobooks to Google Play Music.
And what's more, if you download the audiobooks you uploaded offline, you can cast Audible to Google Home with no network needed. This is especially perfect for outdoors. So how exactly you manage this method? You need a great tool to help you convert Audible audiobooks to common format. By common format, I mean a format without protection. TunesKit Audible Converter provides an all-in-one solution to convert Audible to universal MP3 files within several clicks. Just check on the video tutorial below and see how to get Audible audiobooks converted.

TunesKit Audible Converter Key Features
Losslessly remove DRM from Audible without account authorization
Convert Audible audiobooks to common formats at 100× faster speed
Freely customize lots of parameters of output audiobooks
Split audiobooks into small segments by time frame or by chapters
Step 1 Convert Audible Audiobooks to MP3
Step 2 Upload Converted Audiobooks to Google Play Music
Once you have get the MP3 audiobooks, you can upload files to Google Play Music via the Google Play Music Manager or the plugin for Chrome. I will illustrate it by using the Chrome browser plugin.
1. Make sure your Chrome browser is up to date, then you can download and install the Google Play Music for Chrome plugin.
2. Launch Google Play Music, you will see the main screen of it.
3. Click the three-horizontal-line menu and choose 'Upload music'.
4. You can follow the screen instruction to select music from your computer to upload.
5. Since Google Play Music is a built-in app, you can simply control your Google Home by voice or the app to play the uploaded audiobooks after uploading.