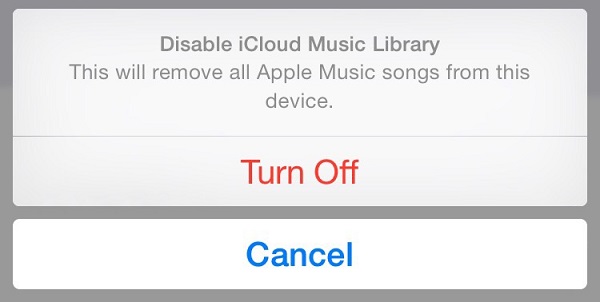 iCloud Music Library is a great feature that lets Apple users to sync and share all the music tracks from Apple Music and iTunes to all devices. However, by enabling this service, you may encounter unexpected errors like:
* Songs are synced with missing or mismatched album artwork
* Tracks show wrong metadata
* live tracks matched to their studio versions
* ...
The more complex your music library is, the more likely the issues occur. Instead of finding fix to those bugs, the better solution is to turn off iCloud Music Library on your devices. How? The following content will show you the complete guide to disable iCloud Music Library on your Mac, PC and iPhone step by step.
Things You Should Know before Disabling iCloud Music Library
Although turning off iCloud Music Library is a permanent solution to avoid syncing errors, you'll however lose the access to music files including a cloud-based copy of your iTunes library, any saved songs from the Apple Music catalog and other tracks you uploaded to iCloud to stream on other devices.
Don't like using iCloud Music Library but still want to listen to Apple Music songs offline on your devices? You can do some tricks as below to use Apple Music without turning on iCloud Music Library.
Step 2. Launch the program and add your saved Apple Music tracks to the converter. Choose the output format as MP3, FLAC or others. Hit Convert.
Step 3. After conversion, locate the converted Apple Music files and move them to any device or player for offline listening.
For more details about Apple Music and TunesKit, you can visit this tutorial: How to Remove DRM from Apple Music.
How to Turn Off iCloud Music Library on iPhone, iPad, iPod
Follow these steps if you want to disable iCloud Music Library on your iOS devices.
Step 1. On your iPhone, iPad or iPod Touch, go to Settings > Music.
Step 2. Scroll down to the iCloud Music Library setting.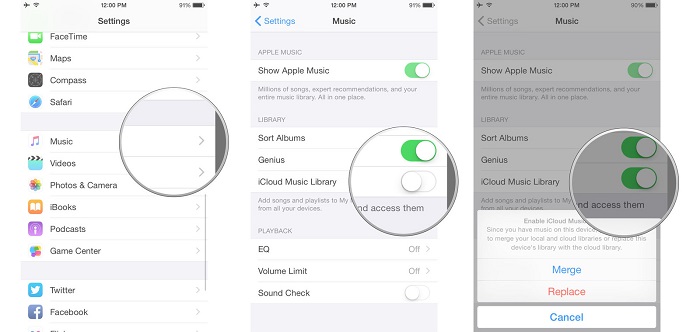 Step 3. Uncheck the option iCloud Music Library.
How to Turn iCloud Music Library Off on Mac/PC
To turn off iCloud music on your Mac or PC, you can follow the instructions below:
Step 1. Open iTunes on the computer.
Step 2. Go to iTunes > Preferences.

Step 3. Under the General tab, uncheck the iCloud Music Library option.